Feb
15
Fri
2019
Mindfulness Techniques and Aromatherapy Can Take You from STRESS! to Zen

@ Common House
Feb 15 @ 9:00 am – 11:00 am
Would you describe yourself as stressed? Frazzled? Overwhelmed?
Whether we are advancing our career, raising our children, caring for aging parents,working on a relationship, or all of the other activities in between, we are busy. We try to do it all – and, without fail, this leads to an overwhelming amount of stress and anxiety.
Mindfulness and aromatherapy techniques are powerful and natural ways to help the body
and mind reduce stress, find calm, and stay energized to get you through your busy day.
In this interactive session, you will learn:
How stress adversely affects our mind and body
Simple mindfulness techniques and essential oils recommended for taking you from Stress! to Zen
The best ways to use these five oils for optimal mental wellness
Disclaimer: The material in this presentation is not meant to take the place of diagnosis and treatment by a qualified medical practitioner.  All recommendations are believed to be effective, but since actual use of essential oils by others is beyond the presenter's control, no expressed or implied guarantee as to the effects of their use can be given nor liability taken.
Mar
15
Fri
2019
Unspoken Strategies for Successful Entrepreneurship

@ Common House
Mar 15 @ 9:00 am – 11:00 am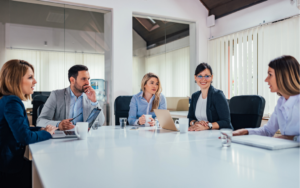 The life of an entrepreneur comes with a series of highs and lows. The great thing is you are in charge of your own destiny, and sometimes the challenge is, you're in charge of your own destiny. Entrepreneurship doesn't come in a neat little box with instructions; we learn through experience and failure. But, how would you like to avoid some of those failures by learning from the mistakes of other entrepreneurs that have walked in your path?
Chris Dawson, owner of R. Alliance, will be joining us for our March FAB! Chris will share real life examples of entrepreneurs that have successfully navigated the rocky terrain of running their own business. If you are a new entrepreneur, or you're considering entrepreneurship, you will learn tips to prepare you for the journey. If you a more seasoned entrepreneur, you will learn tips to perfect your process and receive resources to improve your efficiency.
During this interactive presentation, Chris will teach you:
Insight about the "stuff nobody tells you before you get started"
Clearer understanding of what the demands of entrepreneurship looks like
Additional considerations that factor into decisions about starting or continuing an entrepreneurial initiative
Resources to make your life easier
No matter you level in business, you will walk away from this presentation with tangible tips you can implement. Learn how to start your business on the right foot, and gain invaluable resources for your existing business. Register today!