Feb
19
Tue
2019
Lead With Heart – Discover How to Communicate Appreciation That Speaks to the Hearts of Others

@ Holiday Inn Express
Feb 19 @ 6:30 pm – 8:30 pm
Our hands are arguably the busiest parts of our body. Can you think of any activity you engage in without using your hands? We use our hands to do nearly everything! But, did you know vital information about how you express love and appreciation can be found in your hands?
Elaine Callahan of True You Brand Alchemy, will be joining us for FAB, to show us how we can lead with heart by understanding the different ways people express love and appreciation, and how they want it expressed back to them. She will introduce an assessment tool called Scientific Hand Analysis. This tool will reveal different love and appreciation styles called heart lines.
You will learn:
The 4 heart line styles revealed through the Scientific Hand Analysis: passionate, big heart, hermit and romantic idealist
Tips and ideas on how you can use hearts lines at home and at work
Stories of different heart lines styles to relate to your own
Who knew our hands revealed so much about us? Learn your own heart line style and how you express your feelings to those around you. Can you imagine the feeling of being seen and appreciated? The answer lies in your hands. But you have to register first.
---
SPONSORED BY:
Mar
19
Tue
2019
Discover "U" In Uncertainty

@ Holiday Inn Express
Mar 19 @ 6:30 pm – 8:30 pm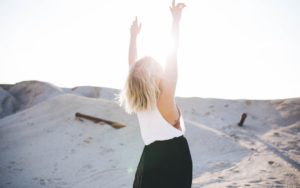 Does the unknown scare you? Predictability is the friend of comfort. But, we don't live in a predictable world. Surprises happen, some good and some not so good. How are you prepared to handle uncertainly in your life? Does it produce a feeling of angst or a feeling of freedom? Uncertainty is part of life. We are not always in control of what happens next. Uncertainty can be used to facilitate growth and experience joy. Would you like to know how?
Sylvia Farbstein, owner of Small Miracles, will be joining us for our March FAB West End event to share how we can accept uncertainty in our lives and not allow it to hold us back. Sylvia will share her own story of uncertainty and how she battled unexpected events in her life and turned them into opportunities to experience growth, fulfillment and joy. Through her own story, Sylvia will teach you how to shift your perspective and apply the same principles in your own life when dealing with uncertainty.
You will learn:
How limiting it is to approach decisions through a narrow lens of certainty
Tangible ways to crate a more interesting life tapestry
How to become more of who you are
Fear of the unknown should not hold you back from achieving your true potential. Learn how to harness uncertainty through all seasons of your life. Are ready to discover who you and what you're capable of? Register for this event today!